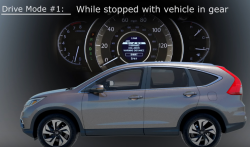 — Model year 2015 Honda CR-V vibration problems have caused Honda to issue a technical service bulletin (TSB 15-046) to its dealers to address customer complaints. Additionally, Honda CR-V vibration class-action lawsuits are a step closer to reality as attorneys prepare for battle in a Ohio courtroom.
Owners of the 2015 Honda CR-V have complained about SUVs vibrating and shaking to the point of making occupants sick. After a flood of complaints and dealer visits, owners joined numerous class-action lawsuits against Honda to convince the automaker to take action on the vibration problems.
With the growing list of lawsuits against the automaker, the Judicial Panel on Multidistrict Litigation consolidated and transferred the cases into the U.S. District Court for the Southern District of Ohio. Those cases will be heard before Judge Michael H. Watson, who appointed attorneys Eric Gibbs and David Stein of the Gibbs Law Group to serve as interim co-lead counsel.
The Honda CR-V vibration lawsuit originally filed by the Gibbs Law Group alleges the automaker redesigned the 2015 models for the purpose of improving fuel efficiency. A noble goal for any automaker, but according to the lawsuit, a goal that could only be reached by creating a vibration in the CR-V so severe that owners say it makes them physically ill.
Owners of the 2015 CR-V say the vibration and noise creates headaches, backaches and a serious distraction to driving. Furthermore, the plaintiffs claim Honda should have warned consumers about the vibration problems, but instead the automaker was more concerned with improved fuel economy numbers.
CR-V owners have complained to CarComplaints.com about the vibrations problems, in some cases as soon as driving the new SUVs off the lot.
"A ridicules vibration at idle and highway speeds. Miller Honda tried a new software update but no solution. They advise Honda will call when they find a way to correct the problem. After seven months it's obvious they can't fix it. And they are still selling these things. Can't believe it." - 2015 Honda CR-V owner / Stephens City, Virginia
"BRAND NEW CAR: Driven off the lot, the vibration problem idling at a stop signs, with or without A/C on, became annoying immediately apparent. Beware to be attentive to this before you drive the car off the lot." - 2015 Honda CR-V owner / Washington, DC
"There are several levels of vibration: at idle, at city speeds, at highway speeds. Honda states that a computer update is available for high speed idling. This was done. There is some improvement. However, Honda states that it cannot adjust the other levels of vibration because this involves a violation of EPA rules." - 2015 Honda CR-V owner / Delaware, Ohio
To learn more about the 2015 Honda CR-V class-action lawsuit, contact the Gibbs Law Group at 800-254-9493 or fill out the form here.
2015 Honda CR-V Technical Service Bulletin (TSB) 15-046
In Honda TSB 15-046, titled "Vibration While Driving and/or Stopped in Gear," the automaker separates different driving conditions it calls "modes" that can result in the bothersome vibrations.
In mode 1, the vibrations occur while the CR-V is stopped in gear. In mode 2, the vibrations begin when the SUV takes off and the engine is at 1,000 to 2,000 RPM. And in mode 3, the CR-V is vibrating while traveling 40-50 mph with the engine at 1,800 to 2,200 RPM.
Repairs to the SUV will depend on which mode a driver can feel the vibration.
First, a technician will interview the CR-V owner to verify when the vibrations occur. Honda has told its dealers they must have an accurate answer from owners to know which repair to perform. In addition, one of the repairs can reduce fuel economy by less than 1 mpg and Honda wants a record of the owner giving their approval to make the repairs.
Mode 1 repairs will consist of installing new radiator lower cushions, a new transmission mount and new front head restraints.
Mode 2 repairs will see dealers install a tailgate damper kit and perform a software update to the powertrain control module (PCM).
For mode 3 repairs, dealers will update the PCM software only.
Although the software update is optional, CR-V owners won't have much of a choice if they are tired of being vibrated out of their seats. Honda says it estimates a change of 0.70 mpg city/highway driving combined, but actual mpg results could vary, especially once the SUV is in real-world driving conditions.
Owners of the 2015 Honda CR-V who have questions about TSB 15-046 can contact the automaker at 800-999-1009.