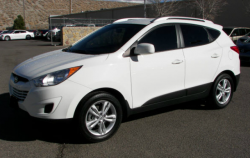 — Hyundai is recalling more than 11,000 Tucson SUVs that can leak transmission fluid. Hyundai says the 2011 Hyundai Tucson has a transmission fluid cooler hose that had manufacturing problems that can cause fluid to leak. The SUV will come to a stop if enough transmission fluid is lost.
In September 2011, Hyundai received a dealer report indicating a transmission fluid leak from the transmission fluid cooler hose on a 2011 Tucson SUV. The automaker monitored warranty claims related to the transmission fluid cooler hoses and looked into the supplier's history of manufacturing the hoses.
The investigation determined certain hoses manufactured August through September 2010 were improperly cured, lowering the rubber durability and making the hoses likely to crack and leak.
Hyundai issued dealers a technical service bulletin about the problem in March 2012, then continued to monitor hose warranty claims. By October 2015, the automaker saw warranty claims had only increased after the dealer bulletin was issued.
The recalled 2011 Tucson SUVs were built July 22, 2010, to October 31, 2010.
The Hyundai Tucson transmission fluid hose recall will begin March 25, 2016, when dealers will begin replacing the transmission fluid cooler hoses.
If you own a recalled 2011 Hyundai Tucson and need questions answered, contact the automaker at 800-633-5151 and refer to recall number 139.