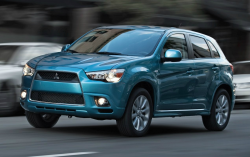 — Mitsubishi is recalling more than 174,000 vehicles in the U.S. to replace front crossmembers that can corrode and cause the lower control arms to detach while driving, causing a complete loss of control.
Recalled are the 2002-2007 Mitsubishi Lancer, 2004 Mitsubishi Lancer Wagon, 2003-2006 Mitsubishi Lancer Evolution, 2003-2006 Mitsubishi Outlander and 2007-2013 Mitsubishi Outlander V6.
However, those vehicles are recalled only if they were originally sold in or ever registered in the following states:
Connecticut, Delaware, Illinois, Indiana, Iowa, Kentucky, Maine, Maryland, Massachusetts, Michigan, Minnesota, Missouri, New Hampshire, New Jersey, New York, Ohio, Pennsylvania, Rhode Island, Vermont, Virginia, West Virginia, Wisconsin and the District of Columbia.
Mitsubishi has known about the problem since May 2014 when a 2008 Outlander in Canada experienced excessive corrosion of the front crossmember. The automaker opened an investigation that lasted two years as Mitsubishi studied the effect corrosion has over time and the salt density of melted snow in different regions.
Based on the investigation, the automaker learned the crossmembers could break due to high salt density of water on the roads, primarily from road salt used in winter.
Mitsubishi doesn't know when the recall will begin. Once it does, affected owners will need to get their vehicles to dealers to have the crossmembers inspected. If a dealer doesn't see a lot of corrosion, the crossmember will have an anti-corrosion agent sprayed on it to seal the part. In the event of significant corrosion, the crossmember will be replaced with a new one that has been sealed.
Mitsubishi says to read the refund directions in the notification letter if you've already paid to have repairs performed.
Owners with questions should contact Mitsubishi at 888-648-7820 and ask about recall number SR-16-003.
CarComplaints.com has complaints about the Mitsubishi Lancer, Mitsubishi Lancer Evolution and Mitsubishi Outlander.