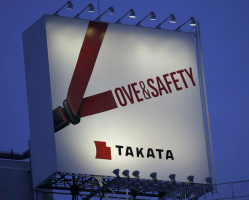 — What could be the 11th U.S. death from a Takata airbag has occurred after it was announced a 77-year-old Florida woman has died two years after an accident in a Honda Civic.
In June 2014, Patricia Mincey was driving a 2001 Honda Civic in Jacksonville when she hit another vehicle, allegedly causing the Takata airbag to deploy with such force that it broke Mincey's back, leaving her a quadriplegic.
Honda recalled the Takata airbag in her Civic four days after the crash.
The family sued, alleging Takata manufactures airbags that kill and injure car occupants instead of protecting them in a crash. Now represented by her daughter, Kelly Sims, the lawsuit says the Honda Civic accident should have been a typical minor crash, not something that should not leave the driver a quadriplegic.
Her attorneys said the defective airbag caused Patricia Mincey to suffer for two years, leaving Mincey unable to move, talk or breathe on her own.
If confirmed to have been caused by the Takata airbag, Mincey's death will be the 11th known fatality in the U.S. related to the airbags.
The airbags can explode with such overwhelming force that occupants can be injured and killed from the metal inflators inside the airbags. The inflators hold a chemical called ammonium nitrate that is used to create what should be a small explosion to deploy the airbags.
Instead, the inflators can rupture and send shards of metal into occupants, something that occurred in a different Honda Civic accident on March 31, 2016.
Huma Hanif, 17, was driving a 2002 Honda Civic in Texas when the car rear-ended another vehicle and triggered the front airbag to deploy. The accident was described by local investigators as minor, but Hanif died at the scene after a piece of the metal airbag inflator sliced her carotid artery in her neck.
Her death was the 10th confirmed U.S. death due to Takata airbags.