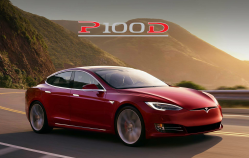 — Tesla may be in the middle of questions and investigations about its "Autopilot" system after the death of a Model S owner, but the automaker is moving forward with plans for faster cars with increased driving ranges.
Tesla says it now has the fastest production car in the world with the Model S P100D with "Ludicrous mode." Tesla points out the Porsche 918 Spyder and LaFerrari are technically faster, but those million-dollar cars were manufactured just a short time and can no longer be bought new.
The automaker also says those cars are like driving in a phone booth with two seats compared to the Model S that seats up to five adults and two kids, plus uses no gasoline.
Tesla says the trick is a larger 100 kW/h (kilowatt hour) battery pack that not only launches the car down the highway at 2.5 seconds at 0-60 mph but increases the driving range to an estimated 315 miles.
In a direct shot to Volkswagen which recently said it was going to create all-electric cars that could reach 300 miles on a single battery charge, Tesla says the larger battery pack will will make its vehicles the longest range production electric vehicles to date.
The extra power and range won't come cheap, as customers who have already ordered a P90D Ludicrous ($115,500) can upgrade to the 100 kW/h battery pack for the low everyday price of $10,000. And that deal is only for a customer who hasn't taken delivery of the car.
Current P90D Ludicrous owners can upgrade to the 100 kW/h battery, but that little improvement will cost $20,000. Tesla says the extra cost is to cover the expense of recycling the used 90 kW/h battery pack.
Tesla's Model X SUV won't be left in the dust as the automaker says the larger battery pack is also available for the SUV and makes it almost as quick as the Model S. The Model X P100D with Ludicrous mode can hit 60 mph in 2.9 seconds and travel an estimated 289 miles on a single charge, not to mention seating up to seven adults for the trip.
To buy one of the new models will set you back at least $134,500 for the Model S P100D and $135,500 for the Model X P100D, an expense Tesla says will help fund the creation of the much cheaper Model 3 currently being developed.
Tesla bluntly says without customers willing to buy the expensive Model S and X, the automaker would be unable to fund the smaller, and much cheaper, Model 3. The car will start at $35,000 with deliveries expected to begin toward the end of 2017.