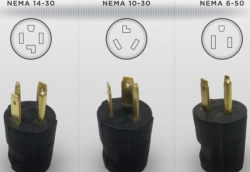 — Tesla is recalling about 7,000 NEMA adapters used to charge its electric cars after two reports of NEMA 14-30 adapters overheating and melting the surrounding plastic.
Although no property damage or injuries were reported, Tesla decided to replace certain NEMA 14-30 adapters along with two similar charging adapters: the NEMA 10-30 and NEMA 6-50.
Certain NEMA 14-30 adapters won't be replaced, namely 14-30 adapters with gray plastic ends and part number 1018243-00-C.
The recalled adapters have the following part numbers:
NEMA 6-50, #1016021-00-A
NEMA 6-50, #1016021-00-B
NEMA 10-30, #1016174-00-B
NEMA 14-30, #1018243-00-A
NEMA 14-30, #1018243-00-B
Tesla emphasizes the recall does not involve the Tesla wall connector, universal mobile connector, NEMA 14-50 adapter or NEMA 5-15 adapter that came standard with the vehicles.
The recalled adapters are made to charge Tesla vehicles in outlets commonly found in homes, such as stove and clothes dryer outlets. Tesla says it designed and sold the adapters but an outside company manufactured them.
Customers are advised to stop using the NEMA 14-30 charging adapters until they are replaced, a process that will take a few weeks. Customers using NEMA 10-30 and NEMA 6-50 adapters will need to wait three months or so for replacements, but Tesla says there is no need to stop using those adapters.
Anyone using a 14-30 adapter should find a different way to charge the car, either by using a different adapter, a Tesla wall connector or by supercharging.
All replacement adapters will be mailed directly to owners, so don't plan on heading to the local Tesla store or service center to get a replacement adapter because the automaker says those facilities won't have the adapters until after the recall is complete.
If you own a NEMA 14-30, 10-30 or 6-50 charging adapter and have questions, call Tesla at 877-798-3752.