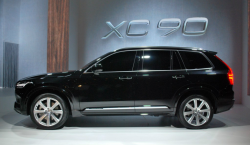 — Volvo is recalling more than 74,000 vehicles to fix problems related to the front passenger seat belt buckles.
Recalled are the 2016-2017 Volvo XC90, S90, XC60, V60 Cross Country, V60, S60 Cross Country, S60 and Volvo S60 Inscription.
In August, Volvo received a report about problems with a front passenger seat belt buckle, causing the automaker to open an internal investigation but found no problems after inspecting 6,000 seat belt buckles. However, a supplier did send information about three seat belt buckles with studs that weren't punched during quality control production.
The supplier determined an employee caused the three seat belt buckle errors and Volvo closed its investigation after finding the original report involved a buckle made during the same period.
October rolled around and the supplier told Volvo "new facts" about the seat belt buckles and couldn't guarantee there wouldn't be additional problems.
Volvo says the stud problem can cause a separation between the buckle and the seat belt bracket, leaving the front passenger unprotected in a crash.
The recalled Volvo vehicles were manufactured February 16, 2015, to August 22, 2016.
The recall is expected to begin December 12, 2016. Volvo dealers will inspect the front passenger seat belt buckle stud by pushing or rotating the buckle forward and checking if the seat belt buckle stud is punched according to specifications.
The seat belt buckle will be replaced if the dealer finds any problems.
Affected owners may contact Volvo at 800-458-1552 and give them recall number R89708.