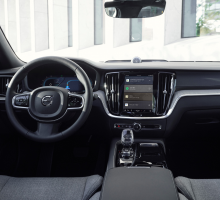 — Volvo is recalling more than 27,000 vehicles because they could lose the antilock brake systems, electronic stability control systems, traction control systems and other functions.
The brake control module 2 can suffer from a diagnostic error in these vehicles.
2023 Volvo S60
2023 Volvo V60
2023 Volvo V60CC
2023 Volvo V90CC
2023 Volvo XC60
2023 Volvo XC90
2023 Volvo XC40
2023 Volvo C40
Volvo says a certain diagnostic test case that checks the grounding may put body control module 2 in a faulty state which can cause a loss of brake support functions.
The vehicles should not lose their brakes because if the problem occurs, the vehicles will enter hydraulic fallback.
However, a driver may notice a hard brake pedal and the Volvo vehicles may possibly lose these functions.
Brake-by-wire
Antilock brake system
Electronic stability control
Traction control
Adaptive cruise control
Pilot assist
One pedal drive
In addition, also lost will be all active safety and city safety functions described in the user manual that involve braking.
A driver will also see warning messages and lights.
Volvo says it hasn't received any crash or injury reports related to the problem.
Volvo will mail recall letters March 15, 2023, but customers won't have to take their vehicles to dealers because Volvo will update the software with an over-the-air update.
Owners may contact Volvo at 800-458-1552 and use recall number R10217.