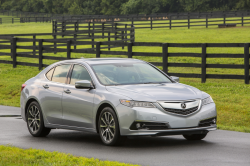 — Acura is recalling about 8,300 model year 2015 Acura TLX V6 cars equipped with 9-speed automatic transmissions.
In September 2016, Acura informed the National Highway Traffic Safety Administration (NHTSA) about plans to recall the cars to update the transmission software, but there was a delay of sorts. Acura says it couldn't reach an agreement with NHTSA on the language of the recall, so the automaker went ahead and notified owners and started recall repairs.
Before all that, transmission supplier ZF filed a defect notice regarding certain transmissions installed in vehicles from numerous automakers, including the 2015 TLX.
ZF reported insufficient crimps in the transmission wire harness can cause the transmission control unit to misread electrical signals and send the car into failsafe mode. That mode will cause the transmission to shift into NEUTRAL and the vehicle will coast to a stop.
Acura believes a small number of cars may be affected by the problem and the automaker says they are providing the software update out of an abundance of caution. However, the update won't fix the problems as engineers say the software update will only cause a warning light to activate if problems are detected.
In addition, the update will extend the period before the transmission is placed into failsafe mode, allegedly giving an owner time to get the car to a dealer for repairs.
Although a car that suddenly loses propulsion can cause all kinds of safety hazards, Acura doesn't know of any crashes or injuries related to the transmission problems.
Acura says any 2015 TLX V6 owner who hasn't already had repairs performed will need to get the car to a dealer for the software update, but with questions the automaker can be reached at 888-234-2138.
CarComplaints.com has complaints about the 2015 Acura TLX and other model years of Acura TLX cars.