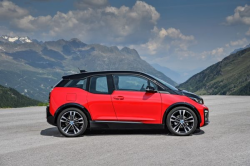 — BMW is recalling 32,000 model year 2014-2018 BMW i3 electric and hybrid cars because of problems discovered during a crash test.
BMW says a small adult driver not wearing a seat belt is at an increased risk of a neck injury in a frontal crash.
In April 2017, the National Highway Traffic Safety Administration (NHTSA) conducted a test of a 2016 BMW i3 concerning how a small adult driver would be protected in a crash if they were not wearing a seat belt. NHTSA calls this the "unbelted 5th percentile female requirements."
BMW reviewed the data and conducted its own tests with i3s, followed by another test of a 2017 BMW i3 conducted by the government. The automaker later performed a test in Europe and it was after this test the automaker decided to issue a recall.
Federal documents say there haven't been any crashes or injuries related to the problem.
Although the BMW i3 recall should begin January 8, 2018, BMW doesn't know how it's going to fix the problem, but engineers are working on it.
If you own one of the recalled i3s and have concerns, call BMW at 855-269-3361.
CarComplaints.com has owner-reported BMW i3 complaints.