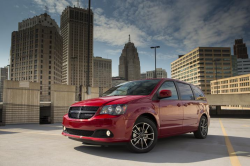 — Fiat Chrysler (FCA US) is recalling more than 209,000 model year 2011-2012 Dodge Grand Caravan minivans because the driver's side airbags can suddenly deploy without a crash.
The recall includes 2011-2012 Dodge Grand Caravans with steering wheel back cover designs with tabs, all built between August 23, 2010, to July 25, 2012. Chrysler says some 2012 Grand Caravans aren't included because the assembly plant started using protection for the instrument panel wiring circuits.
The minivans can experience a trapped steering wheel wire harness between a tab in the plastic steering wheel back cover and the edge of the horn plate. The wire harness has insulation that can deteriorate and create a short-circuit that causes the driver-side airbags to deploy without a crash.
Chrysler says a driver may know there is a problem if they see a warning light illuminated, see the windshield wipers activate even though they aren't turned on, the steering wheel and speed control switches can fail and a multifunction switch can stop working.
The Dodge Grand Caravan recall will begin July 28, 2017, when Dodge dealers will inspect the steering wheel wiring and replace it if necessary, remove the steering wheel back cover tab and apply a protective covering on the wiring to protect it.
Minivan owners with questions should call Chrysler at 800-853-1403. Chrysler's recall number is T33.