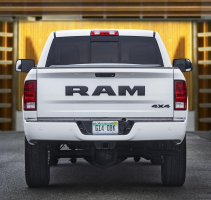 — Fiat Chrysler (FCA US) is recalling about 1.8 million Ram trucks with gear shifter problems that may be connected to at least seven injuries.
Included in the recall are 2010-2017 Ram 2500 and 3500 pickups, 2011-2017 Ram 3500, 4500 and 5500 chassis cabs and 2016-2017 Ram 3500 chassis cabs with a gross weight rating less than 10,000 lbs. Additionally, certain 2009-2017 Ram 1500 pickups are also included.
However, all 2017 trucks built after December 31, 2016, are excluded from the recall.
In addition to 1.48 million trucks recalled in the U.S., nearly 250,000 trucks are recalled in Canada, about 42,700 will be repaired in Mexico and nearly 15,000 trucks areas are outside North America.
The automaker says along with possibly seven injuries, there have been a "small number of potentially related accidents."
If your Ram truck is equipped with a floor-mounted or rotary-dial shifter, the recall doesn't include your vehicle because all the recalled trucks are equipped with shifters mounted on the steering columns.
The shifter on the steering column has a shift interlock that can be affected by high temperatures for long periods of time, such as when the brake pedal is held down while the truck is idling in PARK.
The gear shifter can be moved out of PARK without touching the brake pedal once the shift interlock is disabled. Chrysler also says the shifter can be moved out of PARK without the key in the ignition, leading to a rollaway condition if the parking brake hasn't been applied.
In March 2017, FCA opened an investigation after a Ram truck rolled away and caused an injury to the driver. Warranty data relating to shifters, transmissions and cables was looked at as well as customer complaints about gear shifters that could be shifted out of PARK without pushing the brake pedals or without the keys in the ignitions.
The automaker found a fleet of 240 Ram trucks where 72 of the trucks were affected by the problem caused when the brake transmission shift interlock pins stick in the open position.
In one incident, there was corrosion on the solenoid pin and another had a damaged plastic gate wall, and when engineers tested a new part, six pulls on the column shifter lever caused the gate wall to break.
Chrysler urges customers to use the parking brakes when parking the trucks.
The recall is expected to begin February 8, 2018. Ram truck owners may contact Chrysler at 800-853-1403 and ask about recall number T79.
CarComplaints.com has complaints you can read about Ram trucks.