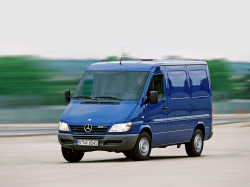 — Daimler Vans is recalling about 82,000 Sprinter vans to replace Takata airbag inflators at risk of exploding into shards of metal.
Those vans include the following:
2010-2012 Freightliner Sprinter 2500 and 3500
2010-2012 Mercedes-Benz Sprinter 2500 and 3500
2007-2009 Freightliner 2500 and 3500
2007-2009 Dodge Sprinter 2500 and 3500
Owners of the vans won't exactly be surprised by the recalls because customers were sent interim letters in February 2016 about the recalls.
This action is actually three separate recalls that are the result of investigations and recalls that go back to 2014 after six Takata airbag inflators ruptured.
The National Highway Traffic Safety Administration (NHTSA) opened an investigation in 2014 concerning recalls from six automakers to replace Takata airbag inflators. Daimler says these newest recalls supersede previous recalls involving passenger airbags in the affected vans.
Daimler doesn't know when the recalls will begin, but dealers will use passenger-side replacement airbag inflators that contain ammonium nitrate, but the propellant has a desiccant (drying agent) added to it.
Sprinter van owners who have questions should call Daimler at 877-762-8267.