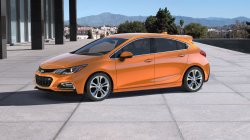 — General Motors is recalling more than 17,190 Chevrolet Cruze cars to fix problems with the seatback recliner mechanisms.
Recalled are 2016-2017 Chevrolet Cruze vehicles after the automaker learned certain suppliers experienced problems but didn't tell GM about the problems.
In September 2016, GM learned of warranty claims concerning loose seatbacks in two Cruze cars, then a third report arrived and caused GM to investigate warranty claims by collecting related parts from the field.
In November, General Motors found inconsistent welds between a seatback bracket reclining mechanism and the seatback frame.
The automaker notified the seat supplier, the supplier for the seatback frames and also the company that supplied the seatback frames. A review of the data indicated problems with the quality of the welds, but those problems were caused by brackets that were out of position.
GM engineers determined the suppliers fixed the problems in July 2016 but didn't tell GM about the misplaced brackets in the first place.
The weak seatbacks may not be strong enough to stand up to the forces of a crash, leaving the driver or front passenger without crash protection they should have, especially concerning the head restraints. The major problem caused by the defects is a seat that completely breaks during a crash.
General Motors doesn't know when the Chevy Cruze recall will begin. Chevrolet dealerships will inspect the front seats and replace any seatback frames that have bad welds.
Owners of the 2016-2017 Chevrolet Cruze cars may contact Chevrolet at 800-222-1020 and ask about recall number 17035.