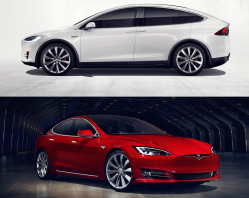 — The National Highway Traffic Safety Administration (NHTSA) has closed an investigation into how autonomous technology called "Autopilot" works in about 43,781 model year 2014-2016 Tesla Model S and Model X vehicles.
The primary cause of the investigation was the death of 40-year-old Joshua Brown, of Canton, Ohio. Brown's car smashed head-on into a tractor-trailer that was crossing a Florida highway, killing Mr. Brown and sheering off the top of the Tesla Model S.
Data from the car showed that Autopilot was engaged when Brown hit the trailer and that Tesla's "automatic emergency braking" (AEB) didn't provide any warning or automated braking. Data also showed Brown took no evasive action such as braking or sudden steering to avoid the crash, and the last thing he did was increase the cruise control speed to 74 mph less than two minutes before the crash.
Safety regulators found Mr. Brown should have seen the tractor-trailer at least seven seconds before the crash, but was likely depending on the system to pay attention for him.
NHTSA says it didn't find any defects related to the technology that is often advertised as "self-driving." Consumers have complained about how Autopilot has been marketed, with even the name "Autopilot" under fire for making the car appear able to drive itself. NHTSA says it's fully aware of the discussions about the name, but that subject is outside the scope of this investigation.
Concerning automatic emergency braking technology, NHTSA makes it very plain and simple by saying AEB is designed for assistance in avoiding rear-end collisions, not for crashes such as Brown's Model S. The AutoPilot system may assist a driver in certain situations, but every driver must still pay full attention to their surroundings at all times, something Mr. Brown apparently did not do.
The government also determined Autopilot is comparable to similar technology from other automakers and like the other systems, Autopilot and AEB are designed for rear-end collisions, not a crash such as the one that killed Brown.
NHTSA also says Tesla fully warns owners in the manuals about the limitations of Autopilot and how drivers must continually monitor traffic and be prepared to take immediate action in the event of trouble.
Since the death of Joshua Brown, Tesla has updated its Autopilot system by creating a "strike out" strategy where the driver must respond to visual warnings in the monitor system or else face the loss of Autopilot. The feature will automatically shut down and remain inoperable until the car is re-started.
NHTSA says additional investigation isn't required because no defect trend was found, but safety regulators say they will continue to monitor any alleged problems with Tesla vehicles.