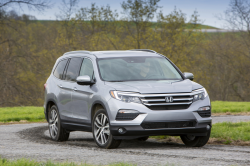 — Honda Pilot SUVs need new gas tanks, at least for 136 model year 2016 Honda Pilots.
The automaker says problems occurred during manufacturing where the wrong material was used to form the fuel tanks and causing a bond that isn't strong enough.
That weak bond won't hold after enough heat exposure, time and vibrations, eventually causing the gas tank walls to separate. From that point the gas will leak, and leaking gas near any ignition source is nothing but trouble.
Honda says both two-wheel-drive and four-wheel-drive SUVs are affected by the recall, a recall scheduled to begin April 24, 2017.
If you own a 2016 Honda Pilot and need more information, call Honda at 888-234-2138. Honda's number for this recall is KE8.
CarComplaints.com has complaints you can read about the 2016 Honda Pilot and other model years of Honda Pilot SUVs.