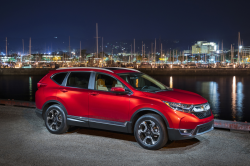 — A Honda CR-V fuel smell lawsuit alleges model year 2015-2017 CR-V SUVs have defects that cause fuel odor problems typically within a year of owning the SUVs.
According to the plaintiffs, Honda deceived them with national marketing campaigns promoting the SUVs as reliable and safe, misleading the plaintiffs to buy vehicles that in fact make people too sick to drive.
Affected owners say they would not have purchased the SUVs if Honda would have mentioned the side effects from noxious gas fumes invading the cabins.
According to the lawsuit, Honda refused to replace or buy back the affected SUVs when CR-V owners told the automaker they could no longer handle driving the SUVs.
CR-V owners say the automaker refuses to fix the problems under warranty even though the SUVs still have valid coverage under the 3-year/36,000-mile warranties.
Owners say they allegedly suffer from medical problems such as headaches, nausea and stomach pains they blame on the fumes. The fuel odors can allegedly be so severe that owners refuse to drive the vehicles because of the risk of sickness.
According to the lawsuit, the automaker knows about the fuel odor problems because of a stream of complaints that have poured in, yet Honda has continually refused to fix the problem because it doesn't know how to make the repairs.
An Illinois owner of a 2015 CR-V says his dealership tried to do something about the fuel fumes, but it was all for naught.
"Started noticing a strong raw fuel odor in my 2015 Honda CR-V when it started to get cold and my heater fan was on especially when you came to a stop. To a point where you have to open the windows, it's so strong. Took it in to the dealer 3 times for this. Finally the 3rd. time the service manager noticed the odor and called Techline, was told to spray leak trace powder on the low-high fuel pressure connections and top of the fuel pump and drive. No leaks found, no correction at that time."
Another owner says their 2016 Honda CR-V was making them regret buying the SUV.
"In November of 2016 we bought another Honda CRV. We are big Honda fans.... BUT I'm terribly disappointed in this one. :( Our CRV's cabin fills with raw gas fumes on a pretty regular basis. There's no rhyme or reason for this and there's apparently no fix. My dealer WAS able to replicate the problem and they did a survey with Honda over the phone. Honda is sending a diagnostic piece for me to plug into my car to help resolve the problem. This is terribly frustrating. I have 2 young children and we're in the car often. I absolutely CANNOT have this problem. Unacceptable, Honda"
Owners can have no confidence in vehicles that make them sick from gas fumes and no confidence in an automaker that doesn't honor its warranties, according to the plaintiffs.
Accusing Honda of breaching warranties and consumer fraud laws, the proposed class-action lawsuit includes anyone who purchased a 2015-2017 Honda CR-V and who complained about the odors only to receive no help.
The Honda CR-V fuel smell lawsuit was filed in the Circuit Court of Cook County in Illinois - Carol Miles et al, v. American Honda Motor Company, Inc.
This Honda CR-V lawsuit isn't the first to allege gas fumes are making occupants sick. A separate action was filed in an Illinois court in 2016 that alleges model year 2016 CR-Vs suffer from gas odors that make occupants sick. The plaintiffs in that case say the smell is so bad that occupants think open containers of gas are inside the SUVs.