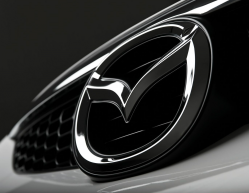 — Mazda is recalling more than 205,000 vehicles to replace Takata frontal passenger-side airbag inflators, a recall that is meant as a permanent fix to a May 2016 recall.
Included in the Takata recall are 2009-2011 Mazda Mazda6, 2007-2011 Mazda CX-7 and Mazda CX-9 vehicles that will have their passenger airbag modules replaced. The recall is part of the ongoing saga of Takata airbags at risk of exploding due to the explosive chemical, ammonium nitrate.
The chemical should create a small explosive force to deploy the airbags in a crash, but it doesn't always work out that way. Because of time, heat and humidity, the chemical can become unstable and explode, sending metal fragments into vehicle occupants.
In May 2016, Mazda ordered a Takata airbag recall for the 2009-2011 Mazda6, 2004-2011 CX-7 and 2007-2011 CX-9 in certain areas of the country. In addition, the 2007-2008 CX-7 and 2007-2008 CX-9 were recalled in other areas of the country.
From May 2016 to June 2017, Mazda had been replacing the passenger-side airbag inflators with identical non-desiccated phase-stabilized ammonium nitrate (PSAN) inflators as the replacement parts, but only as a temporary fix. During that time, Mazda was working on getting permanent replacement inflators that would be used for the final recall, and now those parts are available.
The automaker says this newest recall will supersede the 2016 recall and currently only for Mazda vehicles not yet repaired under the May 2016 recall. Vehicles that have been repaired under the 2016 recall will still need the new inflators installed, but that will be completed during a future recall.
Mazda just started mailing recall notices to owners with instructions to get the vehicles to dealers for replacement of the passenger frontal airbag inflators.
Owners of the 2009-2011 Mazda Mazda6, 2007-2011 Mazda CX-7 or Mazda CX-9 may contact the automaker at 800-222-5500. Mazda's number for this recall is 1317F.
CarComplaints.com has owner-reported complaints about the Mazda Mazda6, Mazda CX-7 or Mazda CX-9.