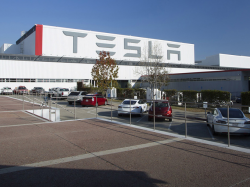 — Tesla Motors has fired a female engineer who had sued the automaker after alleging she was sexually harassed by male employees and paid less than males who were doing the same work.
AJ Vandermeyden filed the lawsuit claiming she did the same work as male engineers but was paid less than males. In addition, the lawsuit alleges she endured males whistling at her and using language she didn't agree with.
Tesla says it decided to fire Vandermeyden after an investigation conducted by a third-party expert concluded her harassment claims weren't true. According to the outside expert, Vandermeyden had no legitimate claims to file the lawsuit, leading Tesla to fire her for making false complaints.
Vandermeyden says her firing proves her lawsuit is legitimate because the automaker is now retaliating by trying to silence her for blowing the whistle on the company. The woman also says Tesla is trying to send a message to other employees about what will happen if they speak out against the automaker.
Vandermeyden says she was employed as an engineer by Tesla in 2013 but was immediately paid less than male engineers and says in her lawsuit that Tesla ignored her complaints about other employees who missed important safety problems. Although she allegedly pointed out the problems, she was denied promotions while male engineers were granted promotions.
The lawsuit alleges Vandermeyden was told that to climb the Tesla ladder, she would need to perform her job duties beyond what male engineers were expected to do. Vandermeyden claims she finally transferred to a different department because she felt constant pressure to perform.
Tesla says it could find no evidence for claims made by Vandermeyden and on the contrary, the engineer had been given jobs when other engineers were more qualified for the duties.
While Vandermeyden claims she was fired for filing the lawsuit and speaking out, Tesla says the engineer was fired for lying about her claims against the automaker. In addition, if an employee blatantly lies like Vandermeyden allegedly has, Tesla says that employee cannot be trusted at work.