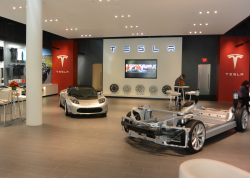 — A Tesla marketing lawsuit alleges the automaker of acquiring private information from driver's licenses, then storing and using that information for marketing and sales purposes without telling consumers.
The plaintiff says he visited a Tesla showroom in July 2015 and was approached by a Tesla employee who offered the plaintiff a test drive that he accepted. The employee allegedly asked to see the driver's license, something the plaintiff believed was only done to make sure he was licensed to drive.
However, the lawsuit alleges Tesla has a practice of obtaining a driver's license and scanning the license with an iPad. In other cases, the employee may swipe the license with an iPad or may manually type the information into an iPad.
The plaintiff says in his case, the employee scanned the license by using software created for Tesla by Appstem. Then the plaintiff was allegedly asked for his email address and phone number before being asked to view a message on the iPad that said, "Test Drive Agreement."
According to the plaintiff, the Tesla employee never mentioned the personal information, email address and phone number would be stored and retained by Tesla.
The plaintiff's personal information was allegedly immediately uploaded by Tesla, using the Appstem application, to Tesla's marketing database where a qualification profile was automatically created.
From there, the personal information was allegedly shared with Experian, which in turn provided Tesla with an Experian "Mosaic" score based on the plaintiff's personal information, such as property characteristics, credit and vehicle data.
The lawsuit says the sole reason Tesla performs this ritual is for marketing purposes, even though the automaker does not allegedly have the right to do that. The plaintiff says customers have no control over their personal information, especially considering they don't even know their information has been retained.
The lawsuit could include quite a few consumers as Tesla said it received nearly 400,000 pre-orders for the Model 3 sedan alone.
The proposed Tesla class-action lawsuit includes all consumers in the U.S. whose driver's license information was used by Tesla without consent within four years prior to the filing of this lawsuit.
In addition, the suit includes all consumers whose driver's license information was used and transmitted by Tesla to acquire an investigative consumer report without consent within two years prior to this lawsuit.
The Tesla marketing lawsuit was filed in the U.S. District Court for the Northern District of California - Wayne Skiles, et. al v. Tesla, Inc, et. al.
The plaintiff is represented by the Kazerouni Law Group, APC, and Hyde & Swigart.