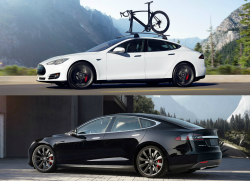 — Tesla is recalling about 53,000 Model S cars and Model X SUVs worldwide to replace electric parking brakes that may have trouble releasing after the brakes are engaged.
Tesla says the recalled model year 2016 vehicles were manufactured between February and October of 2016 and equipped with electric parking brakes with gears inside that can break.
A broken gear means a broken parking brake that will get stuck after it's engaged, not exactly causing a safety hazard, but something that will make it very difficult to get the vehicle rolling.
The parking brake systems on the affected vehicles include electric parking brake calipers on each rear wheel which are separate from the standard brakes. The gear that can break is used to transmit torque from the electric motor to move the brake pads.
If the gears break before the parking brakes are engaged, Tesla says the holding force may not be as strong as it should be, but the automaker doesn't know of any situations where a vehicle was able to move once the parking brakes were engaged.
A driver will know of problems if warning messages appear that say, "Parking Brake Did Not Release - Contact Tesla Service," or "Parking Brake Needs Service - Car May Be Free Rolling."
The automaker says it hasn't received any reports of accidents or injuries and there are no worries about the parking brakes failing to hold vehicles. In addition, the regular braking systems will continue to work properly.
Tesla says Model X and Model S owners will receive recall notices in April, but the automaker is still working with the supplier to get replacement parts, something that may not occur for all the vehicles until October 2017.
Owners of 2016 Tesla Model S and Model X vehicles may contact Tesla customer service at 877-798-3752 and ask about recall number SB-17-33-002.
Have a complaint about your Tesla? Add your complaint here, about any vehicle.