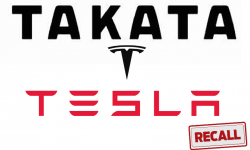 — Tesla may be celebrating being cleared in a federal investigation of its autonomous Autopilot technology, but at the same time the automaker is still having to do with other automakers seem to continuously do: Order Takata airbag recalls.
Tesla has not been a major player in the midst of tens of millions of vehicle recalls, but a recent expansion that adds another 5.7 million recalled airbag inflators has sucked in Tesla.
About 3,000 model year 2012 Tesla Model S electric cars will need to be brought in to replace the front passenger airbag inflators, but only if the cars were sold or ever registered in the following areas:
Alabama, California, Florida, Georgia, Hawaii, Louisiana, Mississippi, South Carolina, Texas, Puerto Rico, American Samoa, Guam, the Northern Mariana Islands (Saipan) and the U.S. Virgin Islands.
Tesla says the story is the same as in the past, as the airbag inflators can explode into tiny sharp pieces of metal when the passenger-side airbags deploy, something that has caused many deaths and injuries in other vehicles. The metal inflators hold a chemical called ammonium nitrate that can become unstable due to age, heat and humidity, so the most important recalls focus on locations with high absolute humidity.
The automaker says the Takata airbag recall will begin by the end of January 2017, leaving repair facilities the job of replacing the front passenger airbags.
If you own a 2012 Tesla Model S in one of the named areas, with questions call 877-798-3752.