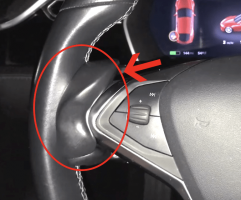 — Autopilot Buddy has been reviewed and promptly banned by the National Highway Traffic Safety Administration (NHTSA) after the agency determined the devices for Tesla vehicles are illegal.
Autopilot Buddy is advertised and sold as a "Tesla Autopilot nag reduction device" that will disable Autopilot warnings that instruct a driver to get their hands on the steering wheel.
NHTSA sent a cease and desist letter to Dolder, Falco and Reese Partners LLC, warning the company must stop all U.S. marketing, sales and distribution of the Autopilot Buddy.
The company, not affiliated with Tesla, claims the aftermarket device "restores the use of 'Autosteer' on Tesla vehicles to earlier Firmware 7 capabilities."
"Autosteer" was first released to Telsa owners in Oct 2015. Since that time Tesla's® "updates" have slowly diminished the duration we can enjoy "autopilot" in our cars. Reduced from thirty minutes to less than one minute between nagging reminders. This reduction in the cars features made many owners upset." - Autopilot Buddy website
Although the device is used to disable safety warnings for a driver to get their hands on the steering wheel, the wording on the Autopilot Buddy website contradicts the purpose of the device by saying it is "not intended to be a hands-off device, your hands must remain on the wheel as directed by Tesla's® terms of "Autosteer" user agreement."
NHTSA says it's illegal for a device to restrict vehicle safety features, yet Autopilot Buddy's website says, "This device restricts built-in safety features of the car. Taking your hands off the wheel of any motor vehicle is dangerous."
The makers of Autopilot Buddy also claim "Autopilot Buddy is for Track Use Only. This is not marketed for 'street use.'"
Safety regulators say Autopilot Buddy is an aftermarket device and considered "motor vehicle equipment" fully regulated by the U.S. government.
"A product intended to circumvent motor vehicle safety and driver attentiveness is unacceptable. By preventing the safety system from warning the driver to return their hands to the wheel, this product disables an important safeguard, and could put customers and other road users at risk." - NHTSA Deputy Administrator Heidi King
The company has until June 29, 2018, to respond to the government and show the devices are no longer available to U.S. consumers. Apparently the company has received the message because its website now says the $199 device is for sale only to consumers outside the U.S.