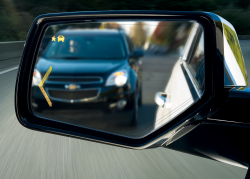 — A Chevrolet Cruze "side blind zone alert" lawsuit alleges the sensors fail because of rain, snow and water on the road, making the systems useless to drivers.
General Motors describes the side blind zone alert technology (SBZA) as using "radar sensors on both sides of the vehicle to help "look" for other vehicles in the side blind zone areas and alerts the driver with LED-lit symbols in the corresponding exterior mirrors."
But according to the proposed class-action lawsuit, the sensors in 2013-2018 Chevrolet Cruze cars are placed on the rear bumpers where water and debris from the rear wheel wells hit the sensors.
Plaintiffs Anthony Hudson and Lisa Hudson purchased a new 2013 Chevy Cruze equipped with the side blind zone alert system that cost an additional $790. In 2015 with the car under warranty, the plaintiffs say the system malfunctioned and was allegedly repaired by the dealer.
But the lawsuit alleges the dealer had the car for about a month because parts were on back order. The plaintiffs claim this is proof people everywhere are experiencing problems with their side blind zone systems.
According to the lawsuit, the problems with the system went away temporarily but returned after the warranty expired. In addition, the side blind zone alert system problems also allegedly caused issues with other electrical functions of the Cruze.
Repairs to the systems can allegedly cost $1,000 or more, something that if known by the plaintiffs would have prevented them from buying the Chevy Cruze.
The sensors and wiring are allegedly sealed poorly and allow water and debris to affect the systems, leaving owners with non-working systems they paid for. Because of the defective design, dealers allegedly can't effectively repair the systems and any damaged sensors are installed in the same problematic locations.
According to the lawsuit, GM sold more than 1 million model year 2013-2018 Cruze cars in the U.S. and about 25 percent had the optional side blind zone alert systems.
The GM lawsuit includes "all persons who purchased 2013-2018 Chevy Cruze" cars equipped with the side blind zone alert systems "in the United States, who presented their vehicles to a GM dealer for service with respect to the system, where the vehicle was serviced for such problem under the GM limited written warranty."
The Chevy Cruze side blind zone alert lawsuit was filed in the U.S. District Court for the Eastern District of Michigan, Southern Division - Anthony and Lisa Hudson, et al., vs. General Motors LLC.
The plaintiffs are represented by Romano Law PLLC, Frank Melchiore, and Edelman, Combs, Latturner & Goodwin, LLC.