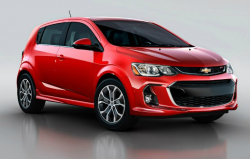 — General Motors is recalling 71 model year 2018 Chevy Sonics because the seatback frames may not be strong enough to hold in a rear-end crash.
The problem is a joint in the driver-side seatback frame that wasn't properly welded, making the frame too weak to hold in a crash.
General Motors doesn't know when the recall will begin, but does say that dealers will replace the driver's side seatbacks.
Affected owners with questions should call 800-222-1020 and refer to recall number 18178.
CarComplaints.com has complaints you can read about Chevrolet Sonic cars and many other Chevy models.