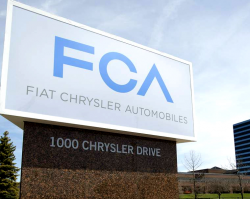 — In a recall a little different than most auto recalls, Fiat Chrysler (FCA US) is recalling more than 62,000 vehicles because of fire extinguisher problems. The extinguishers were made by Kidde between May 5, 2008, to August 6, 2009.
Chrysler says the following vehicles were equipped with Kidde plastic-handle or push-button 'Pindicator' fire extinguishers.
2012-2018 Ram 3500
2013-2018 Ram 2500
2012-2018 Ram 4500 and 5500
2012, 2015 Ram 1500
2004 Dodge Durango
2014 Dodge Journey
2014-2016 Jeep Cherokee
2009 Dodge Challenger
2016 Dodge Charger
2011 Jeep Patriot
2017 Jeep Compass
2015-2016 Dodge Dart
2007 Dodge Caliber
2014-2016 Dodge Caravan
2014-2016 Chrysler Town and Country
2018 Chrysler Pacifica
2014-2017 Ram ProMaster
2015-2017 Ram ProMaster City
FCA learned about a recall of the fire extinguishers and checked if any vehicle models were affected. The extinguisher can become clogged or require a lot of force to activate, especially if the lever is pulled for less than one second where the extinguisher emits only a small amount of air or powder.
Chrysler says another problem can occur where the nozzle detaches from the valve assembly with so much force it can cause injuries. Even without an injury, the fire extinguisher won't work if the nozzle comes off.
The extinguishers have one of these part numbers: 55371011AA, 55371011AB, 55371011AC, 68142895AA, 68142895AB, 68272384AA, 55197090AA, 05028491AA, 55197473AA, 55352848AA, 55352848AB, 55315112AA, 68073963AA, 68101296AA, 68340710AA, 68213319AA, 68248425AA, 68264930AA, 68248425AA, 68264930AA.
FCA will reimburse owners who have paid to replace or repair their Kidde fire extinguishers as long as the owners can show proof of payments.
The Kidde fire extinguisher recall will begin February 9, 2018, when the automaker will contact customers and ask them to contact Kidde for replacement extinguishers equipped with steel nozzles.
Chrysler, Dodge, Jeep and Ram owners may contact Chrysler at 800-853-1403 or Kidde at 855-271-0773. FCA's number for this recall is T82.