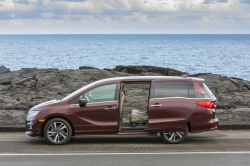 — Honda Odyssey power sliding door problems have caused a recall of 107,000 model year 2018-2019 minivans in the U.S. to replace the door latches.
The automaker says the Odyssey sliding doors may unintentionally open while driving due to rear latch assemblies that can stick. The problems affect both left and right power sliding doors and can prevent the rear latches from latching to the door strikers.
All kinds of mayhem can occur if the sliding doors open while the minivans are in motion, but Honda says it hasn't received any reports of injuries related to the latches.
The problems are caused by components inside the sliding door latch assemblies, but the automaker says it currently has only a limited supply of replacement parts.
Odyssey dealers who don't have the required door latch repair kits will offer owners the option to have the power sliding door features temporarily disabled until parts are available.
The automaker says dealers will have a "more generous supply" of repair kits by late-December 2018. Drivers will still be able to manually open and close the sliding doors if dealers disable the "power" functions.
Concerned 2018-2019 Honda Odyssey customers may contact the automaker at 888-234-2138.