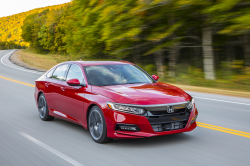 — Honda is recalling 232,000 Accords and Insights in the U.S. to repair rear camera problems.
The 2018 Honda Accords and 2019 Honda Insights have rear-view camera displays programmed with the wrong software.
Honda says the screen that normally displays the images may fail to display those images when backing up.
The automaker says the screens can go blank after certain usage events, but Honda didn't say what those events are. However, restarting the vehicles won't bring back the camera images.
Honda noticed a trend in rear-view image complaints in November 2017 when it received four warranty claims, three tech line reports and one complaint from the field. Engineers believed the displays were going out due to faulty hardware and the problem was likely isolated, so no action was taken other than to monitor the field.
In March 2018 another 18 claims were received about camera display failures and three of those claims were repaired with new hardware. But 15 claims couldn't be resolved with hardware, leaving engineers for the supplier to finally conclude software was the culprit.
As of September 6, 2018, the automaker had received 137 warranty claims and 11 field reports, but no reports of crashes or injuries related to this issue.
Although blank screens won't prevent a driver from backing up, the problems do violate federal regulations concerning rear visibility.
Honda dealers will need to update the software that controls the rear camera displays when the Accord and Insight recall begins November 5, 2018.
Concerned owners may call Honda at 888-234-2138 and ask about recall numbers K2G and V2F.
CarComplaints.com has owner-reported complaints about the Honda Accord and Honda Insight.