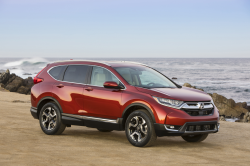 — Honda is recalling 54 model year 2017-2018 Civics and CR-Vs to repair problems with the steering.
Honda says the magnet that controls the torque output signal for the electronic power steering may be loose.
Unless it's properly secured, the magnet can dislodge and during a turn where the wheel is as far as it can go, the power steering assist will be applied in the opposite direction.
This will come as a surprise to a driver, so Honda dealers will need to replace the steering gearbox assemblies.
Affected Honda Civic and CR-V owners may call Honda at 888-234-2138 and watch for mailed recall notices starting November 5, 2018.
CarComplaints.com has owner-reported complaints about Honda Civics and Honda CR-Vs.