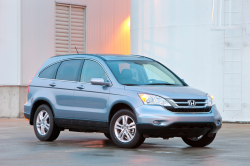 — About 1.4 million Acura and Honda vehicles are recalled in the U.S. to replace passenger-side Takata frontal airbag inflators as part of a recall expansion that is ahead of schedule.
2010-2012 Acura RL
2010-2014 Acura TSX
2011-2014 Acura TSX Wagon
2010-2013 Acura ZDX
2010-2012 Honda Accord
2010-2015 Honda Crosstour
2010-2011 Honda Civic
2010-2011 Honda CR-V
2010-2011 Honda Element
2014 Honda FCX Clarity
2010-2013 Honda Fit
2014 Honda Fit EV
2010-2014 Honda Insight
2010-2015 Honda Pilot
2010-2014 Honda Ridgeline
Honda says this is the fourth phase of scheduled Takata airbag recalls announced by the government in 2016 for inflators that don't contain a desiccant to absorb moisture.
The automaker says it has made a lot of progress with existing recall repairs because plenty of replace airbag inflators are available. The 77.7 percent completion rate out of nearly 13 million recalled vehicles has allowed Honda to issue the recall now instead of waiting until December.
Affected owners who had their driver-side airbag inflators replaced will need to return to dealers to have the passenger frontal inflators replaced.
Acura and Honda customers should watch for mailed recall notices in November.
If you own one of the recalled vehicles and have concerns, call Honda at 888-234-2138.
CarComplaints.com has complaints about Acura and Honda vehicles.