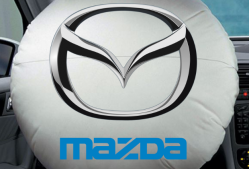 — Mazda is recalling 270,000 vehicles to replace explosive Takata airbag inflators, partially superseding two previous Takata recalls. Recalled are the following vehicles that will have their front passenger air bag inflators replaced nationwide.
2003-2008 Mazda Mazda6
2006-2007 Mazda Mazdaspeed6
2004 Mazda MPV
The automaker is also recalling 2005-2006 MPVs in the following locations:
Alabama, Arizona, Arkansas, California, Delaware, the District of Columbia, Florida, Georgia, Hawaii, Illinois, Indiana, Kansas, Kentucky, Louisiana, Maryland, Mississippi, Missouri, Nebraska, Nevada, New Jersey, New Mexico, North Carolina, Ohio, Oklahoma, Pennsylvania, South Carolina, Tennessee, Texas, Virginia, West Virginia, Puerto Rico, American Samoa, Guam, the Northern Mariana Islands (Saipan) and the U.S. Virgin Islands.
Mazda says the Takata airbag inflators were used as original equipment or replacement equipment and all are capable of exploding in minor crashes.
The propellant used to deploy the airbags, ammonium nitrate, can become unstable due to heat, humidity and age. The chemical is inside the metal airbag inflators that explode similar to a grenade that sends sharp hot pieces of metal into vehicle occupants.
This latest recall partially supersedes a May 2016 Takata airbag recall of 732,000 Mazda vehicles and a January 2017 recall of about 94,000 vehicles.
The Takata airbag inflator recall is expected to begin in July 2018 when Mazda dealers will replace the front passenger air bag inflators with alternate inflators.
If you have concerns or questions, have your VIN ready and call Mazda at 800-222-5500.
CarComplaints.com has owner-reported complaints about the Mazda vehicles named in this latest Takata airbag recall.