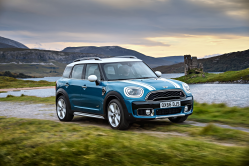 — Nearly 10,000 MINI Cooper Countryman cars are missing their crash protection plates used to protect the high-pressure fuel pumps in crashes.
BMW says the recall includes 2017-2019 MINI Cooper Countryman cars, including Countryman All4 models.
MINI learned about the problem in August 2018 at an engine assembly line and engineers determined the affected cars were built at a single engine plant that forgot to install the crash protection plates.
The automaker says the affected MINI Cooper Countryman cars are equipped with B36M engines produced from December 30, 2016, to July 19, 2018.
Without the crash protection plates the pumps could be damaged and leak gasoline. Although fires are a high possibility, the automaker says it is unaware of any fires or injuries related to the missing plates.
MINI customers will start receiving recall notices in October 2018 with instructions to get the cars to dealers so the fuel pump crash protection plates can be installed.
MINI Cooper Countryman owners with questions should call the automaker at 866-825-1525.
CarComplaints.com has complaints from drivers of MINI Cooper Countryman cars and other MINI models.