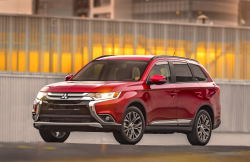 — Mitsubishi is recalling more than 170,300 Outlanders and Outlander Sports because of parking brake problems that could either allow the SUVs to roll away, or the vehicles could get stuck with the parking brakes unable to disengage.
The 2014-2016 Outlanders and 2013-2016 Outlander Sports have rear brake calipers that allow water to enter and corrode the brake actuator shafts, causing the shafts to bind.
A stuck actuator shaft will cause failure of the parking brake to engage, leaving the SUV susceptible to rollaway dangers. It's also possible the parking brake could get stuck after it's engaged, making the job of getting the SUV moving a real problem.
Mitsubishi blames the problem on a lack of rust prevention to the shaft and a lack of sealant of the rear brake caliper boot, allowing water inside the caliper and shaft and causing rust and corrosion.
The automaker says the automatic adjuster for the brake pad clearance of the rear brake caliper can fail, a problem owners could discover as the brake pads wear down.
In October 2014, Mitsubishi received a complaint in the UK about a rear brake stuck on an Outlander, causing the automaker to open an investigation. Engineers determined the parking brake actuator shaft was getting stuck due to corrosion, so Mitsubishi started adding rust prevention to production vehicles.
However, another complaint was filed in Japan about an automatic adjuster in the rear brakes. Engineers found the washer in the brake caliper had a scratch, but the automaker determined the problem occurred only in a specific period.
Mitsubishi made changes to prevent scratches as engineers continued to investigate the root cause of the problem. Then in September 2017, the parts supplier determined improper inspections caused the problem.
The Outlander and Outlander Sport recall is expected to begin March 27, 2018. Mitsubishi dealers will replace any affected parking brake boots, pedal levers and brake caliper bodies. In addition, dealers will replace the piston assemblies of the rear brake calipers.
It's been a tough few days for Mitsubishi Outlander and Lancer owners as the automaker just announced recalls for sunroofs that fly off and for drive belt problems.
Owners with questions should call 888-648-7820 and ask about recall number SR-18-002.
CarComplaints.com has owner-reported complaints about the SUVs named in the parking brake recall: