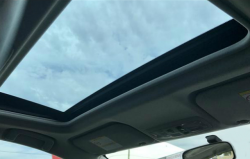 — Mitsubishi is recalling more than 56,600 vehicles because the sunroof glass can detach from the frames and fly off the vehicles.
Recalled are the 2007-2010 Outlander, 2008-2010 Lancer, 2009-2010 Lancer Evolution and 2010 Lancer Sportback.
In March 2015, Mitsubishi received a Japanese complaint about a sunroof that detached from the sunroof assembly. The automaker opened an investigation with the supplier, Webasto Japan Company, and confirmed the polyurethane materials for the outer frames were changed in October 2009 to allegedly make the sunroofs look better.
Mitsubishi says the materials can be affected by changes in temperatures and humidity that weakens the hold on the glass. The change of the polyurethane materials is thought to be the possible cause of the detached sunroof in Japan, but the automaker says it still isn't doesn't know the real cause.
The Mitsubishi sunroof recall is expected to begin March 27, 2018, when Mitsubishi dealers will start replacing the sunroof glass frames and assemblies.
It's been a tough few days for Mitsubishi Outlander and Lancer owners as the automaker just announced recalls for parking brake and drive belt problems.
Owners of the 2007-2010 Outlanders, 2008-2010 Lancers, 2009-2010 Lancer Evolutions and 2010 Lancer Sportbacks may call the automaker at 888-648-7820. The recall number is SR-18-003.
CarComplaints.com has complaints about the Mitsubishi Lancer, Mitsubishi Lancer Evolution and Mitsubishi Outlander.