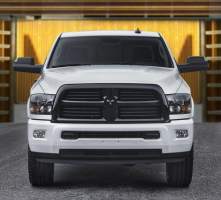 — More than 228,500 Ram trucks are recalled because they can be shifted out of PARK without the keys in the ignition switches or without the brake pedals pushed.
The recalled trucks include the 2017-2018 Ram 1500, 2500, 3500, 3500 Cab Chassis, 4500 Cab Chassis, and 5500 Cab Chassis equipped with column gear shifters.
About 180,400 of the trucks are in the U.S., 42,000 are in Canada, another 4,066 are in Mexico and about 1,400 are outside North America.
Fiat Chrysler (FCA US) recalled about 1.8 million 2010-2017 Ram trucks in December 2017 for the same problem after reports of least seven injuries possibly related to the trucks shifting out of PARK and rolling away. However, Chrysler had said trucks built after December 31, 2016, weren't affected by the shifter problems.
The automaker now says it was wrong about that date as trucks built January 1, 2017, to January 10, 2018, are included in the expanded recall.
The trucks have column shifters that can move out of PARK because the brake transmission shift interlock (BTSI) pins can stick open. The pins can stick open due to high temperatures caused by holding the brake pedals down while the trucks are idling.
The previous Ram recall was issued after FCA opened an investigation into a truck that rolled away and injured the driver. Out of an inspection of 240 trucks, 72 showed signs of brake transmission shift interlock pins stuck open.
Chrysler says the recall involves trucks equipped with column gear shifters only, not floor-mounted shifters. Drivers should always apply the parking brakes before exiting the trucks.
The Ram truck recall is expected to begin March 30, 2018. Dealers will replace the solenoids if the trucks fail tests related to the brake transmission shift interlocks, and all trucks will receive an update to the body control module software.
If you own one of the recalled Ram trucks and have concerns or questions, call Chrysler at 800-853-1403. Chrysler's number for this recall is U11.
CarComplaints.com has complaints you can read about the Ram 1500, 2500, 3500, 4500 and Ram 5500.