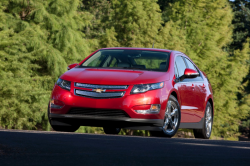 — The 2013 Chevrolet Volt has battery voltage problems, at least in more than 3,200 of the plug-in hybrid cars.
General Motors says a previous software update to improve the car actually did the opposite by disabling the cell balancing function, resulting in a low-voltage condition.
A GM engineer noticed the problem in May 2018, causing the automaker to open an investigation that proved a software update to the "vehicle interface control module" (VICM) was causing low-voltage issues. GM says it was already investigating complaints about low-voltage Volt batteries when the engineer discovered the VICM problem.
The Volt will experience reduced power and propulsion when the battery cells drop to a certain voltage level. General Motors says all propulsion will be lost if the car continues to be driven once power is reduced.
The 2013 Chevrolet Volt recall will see dealers reprogram the vehicle interface control modules, but GM doesn't know when that will happen.
Volt owners with questions or concerns should call the automaker at 800-222-1020 and tell customer service you need information about recall number 18215.
CarComplaints.com has complaints from owners of 2013 Chevrolet Volts and other model years of Volts.