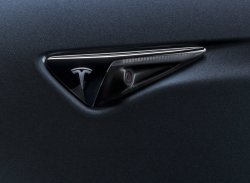 — What's in a name? According to the Center for Auto Safety (CAS) and Consumer Watchdog, it's the difference between life and death for Tesla drivers who believe a technology called "Autopilot" really means "self-driving."
Autopilot is a system that comprises multiple semi-autonomous features that allegedly make driving safer and easier, but the technology has come under scrutiny due to crashes that occurred with the technology engaged.
In a letter to the Federal Trade Commission (FTC), both groups claim Tesla has been misleading and deceptive in its advertising and marketing of the Autopilot feature. According to the letter, Tesla violates FTC regulations by making people believe the semi-autonomous features are completely autonomous.
"Tesla has repeatedly exaggerated the autonomous capabilities of its Autopilot technology, boosting sales at the expense of consumer safety. The FTC must step in and expose this charade before more Americans are injured or killed." - Center for Auto Safety Executive Director Jason Levine
The groups say that in addition to the confusing "Autopilot" name, statements by Tesla and CEO Elon Musk give consumers a false sense of the safety and capabilities of Autopilot.
"Described and marketed responsibly so drivers understood it, Tesla's technology could enhance safety. Instead it's killing people." - CAS
CAS and Consumer Watchdog want the FTC to ensure consumers have accurate information about the limitations of Autopilot and how the road and the vehicle must be constantly monitored by a driver.
In addition to the letter to the FTC, the Center for Auto Safety and Consumer Watchdog also requested the California Department of Motor Vehicles (DMV) investigate the safety and capabilities of Tesla's Autopilot. According to the groups, Tesla is violating autonomous vehicle regulations enacted earlier this year.
The rules say a company can't make claims that would lead consumers to believe a vehicle is autonomous when it doesn't meet the definition stated in the regulations. According to both groups, Tesla's "hype" about Autopilot fails to meet California's requirements for an autonomous vehicle.
The calls for action from Consumer Watchdog and the Center for Auto Safety come at the same time Tesla agreed to settle a class-action lawsuit over Enhanced Autopilot 2.0. According to the lawsuit, Tesla was too slow to roll out features that customers were promised when they purchased the vehicles.