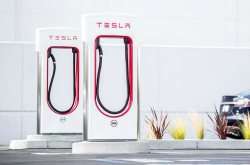 — Electric automaker Tesla has sued the Ontario, Canada government because of allegedly costing Tesla customers incentives they were promised.
Consumers purchased the electric vehicles believing they would receive rebates up to C$14,000 ($10,640) from the Electric and Hydrogen Vehicle Incentive Program.
The lawsuit, filed in Ontario Superior Court, alleges Canadian Premier Doug Ford's government canceled the program but said electric vehicle buyers would still be eligible if buying vehicles already on dealer lots.
The incentives are also still good if third-party dealers ordered the vehicles prior to July 11, 2018, as long as customers have the vehicles in their hands by September 10.
Tesla claims it has been specifically targeted because the automaker doesn't sell vehicles through traditional dealerships. Tesla's business model is unique because customers buy electric vehicles directly from the automaker, something Ontario knows all too well.
According to the lawsuit, the Ontario government has "inflicted substantial harm on Tesla Canada" and left hundreds of Canadian customers without the promised rebates.
Tesla argues its customers were "deliberately and arbitrarily" thrown out without warning, something that didn't happen with electric vehicles sold by other automakers. The automaker says "the unquantifiable and irreparable harm grows" each day its customers are excluded from qualifying for the rebate program.
Considering a Tesla Model 3 can cost about 71,000 dollars (Canadian), getting C$14,000 off the price can mean the difference between owning the car or not. In addition, customers who have been waiting for their Tesla vehicles have the issue of non-refundable deposits they gave to the automaker.