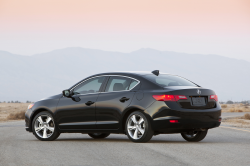 — An Acura ILX recall has been ordered by the automaker because the cars can run out of gas even though the fuel gauges indicate plenty of fuel is available.
About 4,450 model year 2014-2019 ILX cars in the U.S. will have their fuel tanks inspected and possibly replaced due to fuel tank deformities.
Acura says the bottom of the tank may cause it to sit too high and reduce the space between the inner wall of the tank and the fuel float. The float can stick to the inner wall as fuel moves inside the tank, causing inaccurate fuel readings.
The ILX may suddenly stall while driving as the car runs out of fuel, leaving a driver guessing what caused the stall. However, the automaker says there haven't been any reports of crashes or injuries related to the fuel tank problems.
ILX owners will receive recall notices in March 2019 with instructions to get the cars to dealerships for repairs, but owners who need more information should call the automaker at 888-234-2138.
CarComplaints.com has owner-reported complaints about the Acura cars: