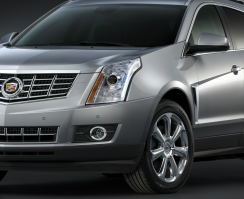 — A Cadillac SRX headlight lawsuit alleges the SUVs are equipped with headlights that are too dim and make driving dangerous at night.
The SRX headlight lawsuit also alleges the exterior housing units prematurely wear out and allow moisture to cause failures of the lights.
The moisture allegedly corrodes the headlight components, causes electrical short circuits and leaves condensation inside the headlight assemblies.
Some SRX drivers claim they are afraid to drive at night because the lights are too dim, but other customers say they can't drive at night at all because the headlights failed.
Three Cadillac SRX owners filed the class action lawsuit seeking to speak for customers of more than 300,000 model year 2010-2015 SRX vehicles. According to the lawsuit, excessive water and condensation damages the bulbs and igniters which leaves the headlights too dim.
"I had an accident due to the low beam lights on my 2012 Cadillac SRX. It was still dark at 5:30AM when I failed to see the outer road turned which caused me to collide with a curb and become airborne. This accident caused 3 blown out tires and 2 ruined rims. This cost me $1700 and it was all caused by the extremely dim low beam headlights."
SRX drivers claim they have to blind oncoming drivers at night by having no choice but to use the high beams once the low beams fail or are just too dim to light the roads.
The lawsuit alleges General Motors knows about the problems because dealerships have been issued several technical service bulletins (TSBs) based on customer complaints about the headlights.
However, GM allegedly repairs the defective components by installing the same defective components that caused the problems in the first place. Cadillac SRX drivers allege they are forced to pay thousands of dollars for repairs and replacements, with some customers claiming the cost was as high as $5,000.
According to the plaintiffs, GM refuses to extend the warranties and shifts the burden of paying for repairs onto SRX owners. The automaker did issue a customer satisfaction campaign (10043330-5822), but it applied to 2010 Cadillac SRX owners only.
GM says a loss of electrical contact between the halogen headlight connectors and low-beam bulbs "could cause the headlamp and/or daytime running lamp to work intermittently."
Cadillac offered to reimburse customers who paid for repairs, but the plaintiffs claim it was meaningless because the same defective headlight components were used as replacement parts.
The SRX headlight lawsuit references a different class action lawsuit that was recently settled, but only for customers in California and Florida.
The Cadillac SRX headlight lawsuit was filed in the U.S. District Court for the Eastern District of Michigan - LaTorre, et al., v. General Motors LLC.
The plaintiffs are represented by the Miller Law Firm, Tycko & Zavareei, Kopelowitz Ostrow Ferguson Weiselberg Gilbert, and Kaliel PLLC.
CarComplaints.com has headlight complaints from Cadillac SRX drivers: 2010 / 2011 / 2012 / 2013 / 2014 / 2015