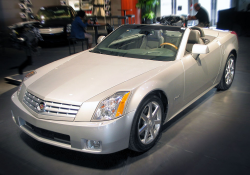 — Cadillac XLR roof problems are under federal investigation after complaints about roof panels separating from the roof frames in 2004-2005 models.
The National Highway Traffic Safety Administration (NHTSA) says about 7,700 XLR cars may have problems with degradation of the adhesive used to secure the outer roof panels to the roof frames.
Most owners complained about 2004-2005 XLR roof panels that flew off the cars while driving, but three drivers say the separations occurred while the cars were parked.
One XLR driver says they heard wind noise near the seal between the windshield and the closed portion of the convertible top. The dealership allegedly said it was likely a worn seal that could be fixed by applying silicone sealant.
"The next day, while traveling at approximately 72 mph down the interstate, with the convertible top close, the top fiberglass panel of the convertible roof separated entirely and cleanly from the frame of the vehicle."
Others told similar stories about their roofs flying off the vehicles while driving and then listening to GM deny any liability in the matter.
NHTSA will look at how roof panel adhesive used during production may be falling apart and failing to secure the outer roof panels to the inner retractable frames.
CarComplaints.com will update our website with results of the 2004-2005 Cadillac XLR roof panel investigation.