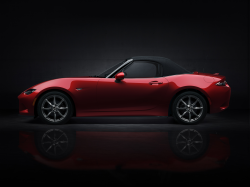 — A recall involving model year 2016 Mazda MX-5 Miata cars is needed because the skid plates and metal brackets may detach from underneath the cars. This will leave things a mess for other vehicles on the roads.
The defect is blamed on improper maintenance of a spot welding machine that decreases the strength of the welds.
Mazda received the initial report of skid plate noise in December 2015 and the affected parts showed several of 12 welding points had separated. However, Mazda believed the welds still met specifications.
By September 2016 the automaker still hadn't found the root cause of the weld problems and engineers believed the incident was caused by external factors. But by August 2018 more complaints arrived about noise coming from the skid plates because of the welds.
Mazda determined all the affected cars were manufactured in June 2015 when a faulty welding tool caused decreased weld strength.
Mazda says it has not received any reports of crashes, injuries or deaths related to the dropped skid plates and brackets.
More than 2,400 cars are recalled in the U.S. and 90 vehicles are recalled in Canada.
It's possible a driver will hear a metallic rattle noise due to contacting between the skid plate and the metal bracket when some of the welding points separate before a complete separation occurs.
The Mazda MX-5 Miata recall is scheduled to begin August 26, 2019. Mazda dealerships will replace the skid plates and brackets.
MX-5 drivers may call the automaker at 800-222-5500 and refer to recall number 3619F.
CarComplaints.com has complaints from drivers of Mazda MX-5 Miata cars.