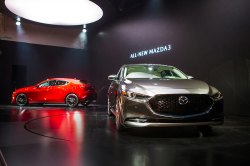 — Mazda Mazda3 windshield wiper problems have caused a recall of nearly 239,000 cars to repair windshield wipers that may fail while the wipers are in operation.
Nearly 188,000 model year 2016-2018 Mazda3 cars in the U.S. and 51,000 in Canada have defective windshield wiper relays that interfere with electrical power to the wiper motors.
Mazda received its first complaint about the wipers in November 2015 and an investigation determined the failure was caused by contamination and metal deposits left over from the manufacturing of the relay.
Engineers found a small amount of silicone at the contact point of the relay even though silicone wasn't used during manufacturing. In November 2016 Mazda determined the wiper failure was related to the wiper motor capacitor specification.
But in June 2017 the automaker was told silicone wasn't the cause of the problem, but changes to the wiper relays in the front body control modules were still made. Reports of wiper failures decreased, but Mazda says a recall is required because the automaker can't guarantee the downward complaint trend will continue.
The defective wiper relays were manufactured by Bosch and to fix the problem Mazda dealerships will replace the front body control modules with new modules that use improved wiper relays.
Mazda didn't say if wiper failures have caused any crashes but did say no injuries have been reported.
The Mazda3 windshield wiper recall will begin June 3, 2019.
If you own a 2016-2018 Mazda3 and have questions, call 800-222-5500 and ask about recall number 3219D.
CarComplaints.com has owner-reported complaints about Mazda3 cars and other Mazda models.