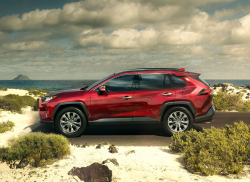 — A 2019 Toyota RAV4 and RAV4 Hybrid recall has been ordered to repair problems related to the backup cameras.
About 18,000 RAV4s are recalled in North America because the backup cameras may fail when drivers shift the SUVs into REVERSE. Toyota says a damaged connector in the audio display unit may cause the backup camera to fail.
A driver won't be able to see the area behind the RAV4, defeating the entire purpose of the system.
The automaker also says this will lead to noncompliance with certain safety regulations in Canada and the U.S.
Toyota says U.S. RAV4 owners will be contacted in October 2019 and dealerships will replace any faulty audio display units.
The National Highway Traffic Safety Administration (NHTSA) hasn't released information about the recall, but CarComplaints.com will update this page when more is known.
Owners of 2019 Toyota RAV4 and RAV4 Hybrid vehicles may call the automaker at 800-331-4331.
Check out what drivers say about their 2019 Toyota RAV4 SUVs and Toyota RAV4 Hybrid SUVs.