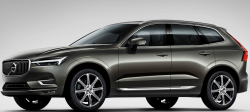 — A Volvo XC60 recall for power tailgate problems has been issued for about 167,000 SUVs worldwide and possibly 40,000 or more in the U.S., although the government hasn't announced exact figures.
The company, owned by Chinese company Geely, says 2018-2019 XC60 SUVs have defective power tailgate lifting arms that may separate in cold weather.
It's likely at least minor injuries have been reported because the automaker says it knows of no "significant injuries" caused by falling tailgates.
The Volvo XC60 recall is the second recall in less than two weeks from the automaker, with 220,000 vehicles recalled in January for fuel line leaks.
Interim notifications were mailed on January 31, 2019, to warn owners about the tailgate lifting arms. Second letters will be sent once remedy parts are available.
Concerned owners of 2018-2019 Volvo XC60 SUVs should call 800-458-1552 and ask about recall number R89910.