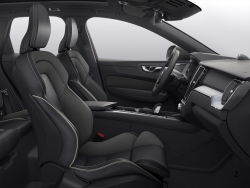 — A Volvo seat belt cable recall includes about 2.2 million vehicles worldwide, with nearly 308,000 of these models recalled in the U.S.
2008-2016 Volvo V70
2008-2016 Volvo XC70
2007-2016 Volvo S80
2011-2018 Volvo S60
2011-2018 Volvo V60
2016-2018 Volvo S60 Cross Country
2014-2020 Volvo S60L
2009-2015 Volvo S80L
2009-2016 Volvo XC60
2015-2018 Volvo V60 Cross Country
According to Volvo, the flexible steel cables that connect the seat belts to the front outboard seating positions may wear out and cause the seat belts to fail when the cable fasteners come loose.
Volvo started investigating the problem in 2015 after receiving two Italian reports, but the investigation was closed more than a year later when no defect trend was found.
No reports were received in 2017 but in December 2018 two additional reports came in.
In 2019 four more reports were received, but no problems have been detected in the U.S. to date.
Volvo decided to issue the recall after an investigation with the supplier.
Volvo dealers will replace the seat belt anchor cables for both front seats when the recall begins August 25, 2020.
Owners may contact Volvo at 800-458-1552 and refer to recall number R10029.
Read what owners say about the vehicles named in the Volvo seat belt cable recall.