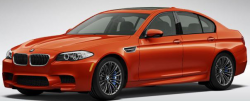 — BMW is recalling certain model year 2013 M5, M6 Coupe, and M6 Convertible vehicles, manufactured from July 19, 2012, through September 11, 2012.
According to BMW, the tolerance between the engine oil pump's drive shaft and the pump's rotor is not within specification. As a result, the pump's driveshaft could separate from the rotor. BMW believes the error occurred during manufacturing.
Separation of the pump's driveshaft from the rotor could lead to a sudden loss of oil pressure causing the possibility of complete engine failure, resulting in an engine stall.
BMW will notify owners and dealers will replace the oil pump. The recall is expected to begin during October, 2012. You can contact BMW at 800-525-7417.