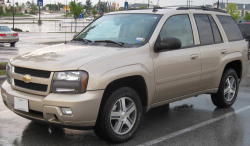 — The National Highway Traffic Safety Administration (NHTSA) has expanded their investigation into possible door fires in 2006-2007 Chevrolet Trailblazers.
The Office of Defects Investigation opened a preliminary evaluation in February, 2012, based on complaints that allege the driver-side door module had melted or burned.
The NHTSA has received 66 complaints about the module burning and 28 complaints say the door caught on fire. General Motors presented 167 reports and 698 warranty claims that related to the problem.
Some people have complained their driver-side door caught on fire even though the vehicle wasn't running and no one was around it.
Based on the NHTSA investigation from February, the agency has upgraded their evaluation to an official investigation of the electrical system and the power window devices and controls.
Along with the 66 complaints about the door module melting, the government received an additional 17 complaints alleging the window switches were acting up or had completely went out.