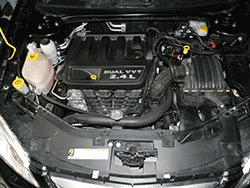 — How would you like to be driving through a busy intersection and have your car die? No warning, no flashing lights, and nothing to do but try to avoid all the vehicles whizzing around you. If you're the owner of a 2011 Chrysler 200, you might know that exact feeling.
Since the Chrysler 200 first hit the streets, owners across the U.S. have complained their "dream car" has turned into a nightmare of never knowing when or where the car will die.
"I have a brand new car, two months in the trouble started," said Linda L., of Bolton, Mississippi. "Just driving down the road the engine shuts off for no reason. Not only has this happened one time, but how about four times and one time on a rail road track."
Linda is far from alone.
"I bought this car with 14 miles on it because I needed a safe reliable car," wrote a Chrysler 200 owner from Wills Point, Texas. "It has died 5 times while driving, once in front of an 18 wheeler."
Complaints submitted to CarComplaints.com and the National Highway Traffic Safety Administration all tell the same story.
Owners report their cars abruptly going dead on the road with no warnings and no way to control the vehicle. Once the key is turned to off, the vehicle can then be started as if nothing happened.
Chrysler dealers seem to be as confused as the owners because no warning lights or error codes are activated.
Chrysler owners, however, are so angry that many say they will never buy another Chrysler vehicle.
"I'll never buy another one," said Colleen B., of Flower Mound, Texas. "My son was in an accident because of that car and Chrysler acted like everything was fine because I got my insurance money from the accident."
Colleen's 20-year-old son was home on break and needed to use the car. He had driven the car before and knew the road, so she had no problem letting him use it.
"I never would have thought I would be thankful that he hit a tree, but that tree kept the car from going into a steep ravine," Colleen said.
Colleen said when her son got to a sharp curve, he lost the steering and brakes because the car died. Thankfully, her son wasn't injured, but her car was totaled.
"We already had the car to the dealer twice because it had died at a stop light and again while driving on a slight incline," Colleen said. "I was getting ready to take it to the dealer a third time because it had died again the previous week. The dealer could never find anything wrong."
Chrysler investigated the accident and concluded there was no problem with the car because just as with all the other incidents across the country, the car's computer didn't show a problem.
"When I asked about other complaints of engine failures, I was told not to worry about it, my insurance paid me, end of conversation," Colleen said. "I told Chrysler it's going to take someone getting killed or seriously injured before anything is done."
She might be right.
Just this week the National Highway Traffic Safety Administration opened an investigation into a possible side air bag problem in the 2012 Hyundai Elantra after a single complaint of a driver being cut by a piece of metal when the air bag deployed.
However, there has been no investigation into the Chrysler 200 even after numerous complaints of the car shutting down in the middle of traffic.
On CarComplaints.com, a very alarming 85% of engine complaints for the 2011 Chrysler 200 involve the car stalling, and complaints about the engine dying or stalling are being reported five times more than anything else for the 2011 Chrysler 200.
When contacted, Chrysler Group provided us with this statement:
"We are currently investigating a few customer complaints of engine stalling in Chrysler 200 vehicles, but have not identified a common root cause at this stage."
We followed up with Chrysler for clarification about the "few" complaints mentioned in their statement. Chrysler responded that the complaints "may be" from a number of sources. We also contacted the service departments of Chrysler dealerships across the country, but they refused to comment.