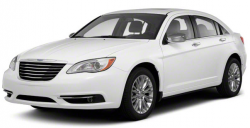 — Following on the heels of an investigation by CarComplaints.com into problems with the 2011 Chrysler 200, the National Highway Traffic Safety Administration (NHTSA) has opened a preliminary evaluation of why the engine stalls without warning.
According to the Office of Defects Investigation, the evaluation includes about 87,000 vehicles equipped with the 3.6-liter V-6 engine.
In May, CarComplaints.com reported how Chrysler 200 owners were left dumbfounded when their vehicles would die without warning at stop lights, intersections, or even on rail road tracks.
"I have a brand new car, two months in the trouble started," said Linda L., of Bolton, Mississippi. "Just driving down the road the engine shuts off for no reason. Not only has this happened one time, but how about four times and one time on a rail road track."
Even after numerous trips to the dealer, owners still have no answers and many swear they will never buy another Chrysler vehicle.
The current evaluation by the government is sometimes the first step toward a safety recall.
Read our May 29 report here.